Description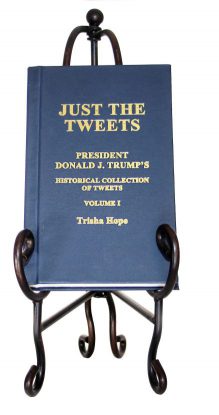 "JUST THE TWEETS" VOLUME I…is a "Historic, Chronological Archive" of President Donald J. Trump's first year in office, via the tweets, posted from his @realdonaldtrump Twitter account.
Each spring a new volume of  The "JUST THE TWEETS" Collection will be released compiling President Trump's tweets for each year of his presidency. Four volumes for his first term and hopefully, four for his second term for a total of 8 historic collectible volumes.
In Volume I President Trump begins his fight to "Make America Great Again" despite staggering "Deep State" opposition.
As you read Volume I  you'll begin to…
…Discover the immense corruption and bias embedded in our government and main stream media at the highest levels.
…Realize (if you haven't already), Donald Trump is a marketing and strategic genius as he out markets and out maneuvers the "Trump Haters" at their own game.
…Realize President Trump was right about many things for which he was criticized.
Get your copy today!